Prof. Nicolae Chele
One of the pioneers and leaders of oral implantology in the Republic of Moldova.
Book an appointment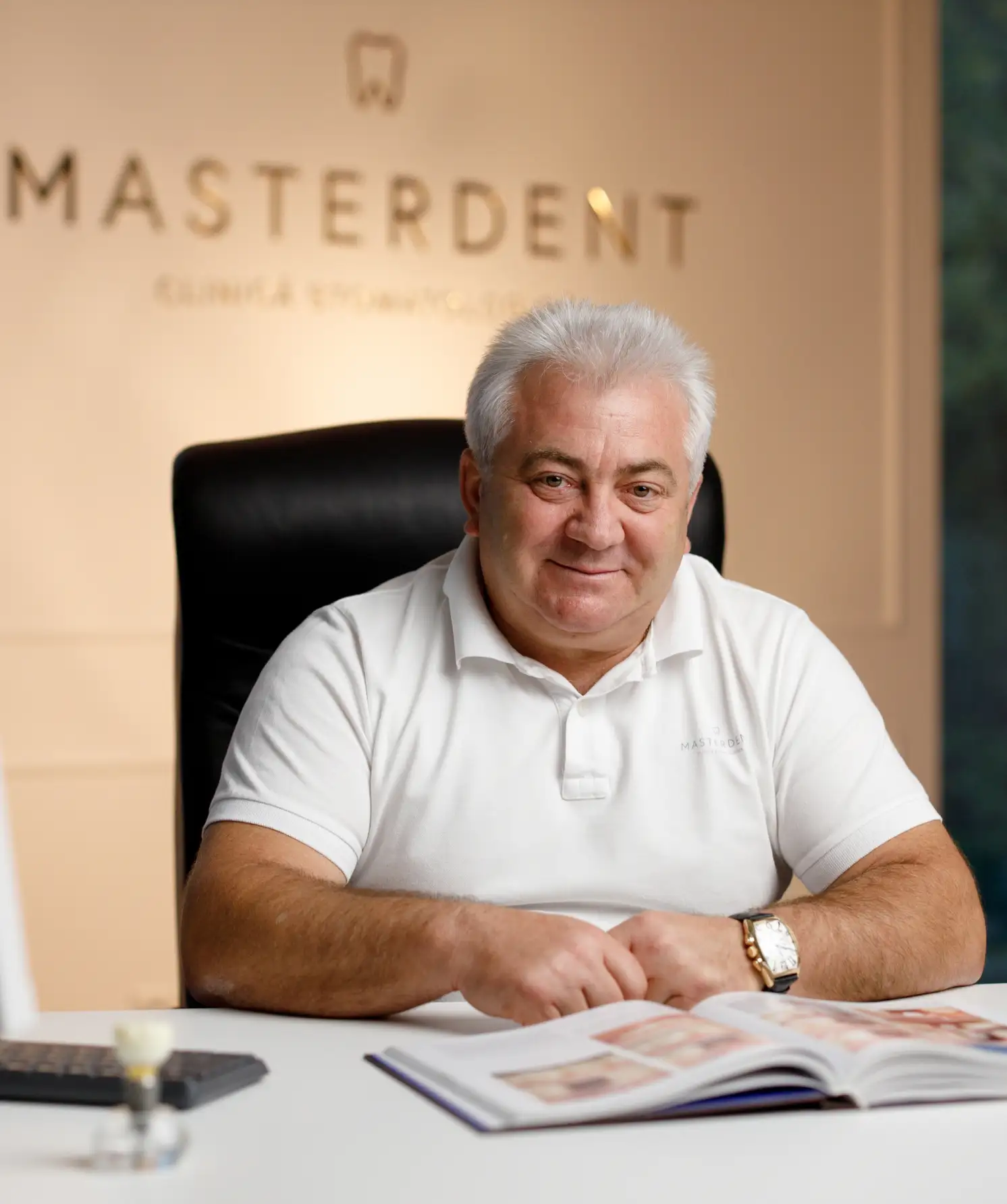 Prof. Nicolae Chele
PhD, full professor
Founder and responsible for organizing the medical activity within the clinic.
Simultaneously with his doctoral activity, he teaches and leads the department of oro-maxillo-facial surgery within the State University of Medicine and Pharmacy "Nicolae Testemitanu".
Specializing in oral and maxillofacial surgery, Prof. Chele has conducted and published numerous studies on minimally invasive methods of installing endosseous dental implants.
Professional achievements
Device for determining the dynamics of consolidation of mandibular fractures
Method for examining the dynamics of consolidation of mandibular fractures
Method of early installation of dental implants in a surgical time
Miniinvasive method of early installation of dental implants in two stages
Method of guided simultaneous installation of stage two dental implants
Method of implant installation and stabilization in severe maxillary atrophies
Dental extraction protocol - part of the immediate installation of implants
Restoration of bone defects of alveolar processes in implant-prosthetic rehabilitation
Vertically guided augmentation method in severe maxillary atrophies with simultaneous implant installation
Optimizing the complex treatment of mandibular fractures
General anesthesia in oro-maxillo-facial surgery
Oral hygiene in injuries with jaw fractures
Over 145 scientific publications
Immediate dental implantation. Risks and benefits
Over 26 theses at international scientific forums
Loco-regional anesthesia in oro-maxillo-easy surgery and dentistry
Member of the Commission for attestation of dentists of the Ministry of Health, Labor and Social Protection of the Republic of Moldova
Member of the Council of Experts of the Ministry of Health, Labor and Social Protection in the field of health
Member of the Specialized Commission of the Ministry of Health, Labor and Social Protection
Member of the Expert Commission of the National Accreditation Center
Member of the USMF Senate "Nicolae Testemitanu"
President of the Scientific-Methodological Commission of the profile of USMF "Nicolae Testemitanu"
Member of the Editorial Board of the Journal of Dental Medicine in Chisinau
Member of the Editorial Board of the OMF Surgery and Implantology Surgery Magazine in Bucharest
Full member of the Association of Dentists of the Republic of Moldova
Full member of the European Osteointegration Association
Full member of the International Congress of Oral Implantology
Award of higher dental education for special merits in professional activity, providing quality dental services, scientific and didactic activity, fruitful participation in the activity of the Association of Dentists of the Republic of Moldova
Order of Gloria Muncii for long and prodigious activity in the health care system, substantial contribution to the improvement of the instructive-educational process in medical higher education
Second degree diploma from the Government of the Republic of Moldova
First degree diploma from the Parliament of the Republic of Moldova
5 gold and 3 silver medals